FDLPL Main Library
9 am-8 pm
Idea Studio
By Appointment
Chapter 52 Bookstore
Closed
FDLPL Express
2 pm to 6 pm
October is Adopt a Shelter Dog Month
Item request has been placed!
×
Item request cannot be made.
×

Processing Request
by Joanne Mengel
Did you know October is Adopt a Shelter Dog Month? This is a cause that is near and dear to me. Not ready to adopt? Donate instead! Shelters can always use some extra supplies.
Contact your local shelter or rescue group to see if it has a wish list of items it needs, just be sure to clean any supplies before you donate them. Most shelters and rescue groups even have wish lists posted on their websites. Often a shelter's wish list will include: water and food bowls, toys, leashes and collars, brushes/grooming tools, pet beds, and blankets. If you do decide to take the plunge and adopt a shelter dog, the library has lots of resources to help you welcome your new furry friend into your home and start you on the way to a well trained pup. 
 Rescuing Penny Jane : one shelter volunteer, countless dogs, and the quest to find them all homes (636.7083 Sutherland 2017)
Drawing on her work at a shelter, her experiences living with her own two rescue dogs, and years of research, bestselling author and columnist Amy Sutherland takes us on an unforgettable journey into the special world of rescue and shelter dogs--and the growing number of dedicated people who are deeply invested in saving these precious lives.
 Mutual rescue : how adopting a homeless animal can save you, too (636.0887 Novello 2019)
Each story in the book takes a deep dive into one potent aspect of animal adoption, told through the lens of people's personal experiences with their rescued pets and the science that backs up the results.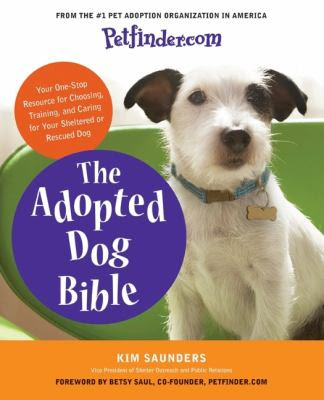 The adopted dog bible (636.7 Sa87) Your one-stop resource for choosing, training, and caring for your sheltered or rescued dog.
Your one-stop resource for choosing, training, and caring for your sheltered or rescued dog.
 Training secrets for rescued dogs (636.7088 Training 2010)
Take your rescued dog from wild to well behaved with patient, positive training. This Popular Pet (magazine-book) includes tips and advice from experts and professional trainers that will help owners get the most out of their rescued dogs.
 Old dog, new tricks : understanding and retraining older and rescued dogs (636.7088 T213)
Every year thousands of families adopt adult dogs, whether from friends, relatives or the pound or rescue society. These new owners need to understand and deal with the specific problems an older dog may have, especially if its history is unknown. This book tells how.
 Canine good citizen : ten essential skills every well-mannered dog should know : the official AKC® guide (636.7083 Burch 2021)
Learn about: the ten test items of the Canine Good Citizen test and how to teach your dog the skills needed to pass them.
 Imagine life with a well-behaved dog : a 3-step positive dog-training program (636.7088 B555 2010)
Tackles basic training and problem behaviors, covering puppies, adult dogs, and special needs dogs.
 Dog training for dummies (636.7088 Volhard 2020)
Don't let the title bother you - this great book shows dog owners how to select the right training method for their puppy, adult, or senior dog. Whether you want to teach Buddy to sit or master retrieving, this hands-on guide provides training to ensure a mutually respectful relationship with your four-legged family members.
What's my dog thinking? : understand your dog to give them a happy life (636.7088 Molloy 2020)
Discover the true meaning of dog behavior to form the deepest bond with your canine companion. Drawing on the latest research in dog psychology, this book reveals the secret meanings behind more than 80 canine behaviors, including the seven types of dog greetings and why some dogs eat your underwear!
 Wag : the science of making your dog happy (636.7 Todd 2020)
Acclaimed blogger Zazie Todd distills the latest canine science and shares recommendations from leading veterinarians, researchers, and trainers to cultivate a rewarding and respectful relationship with your dog--which offers many benefits for you, your family, and your four-legged friend.
 Dog training 101 : step-by-step instructions for raising a happy, well-behaved dog (636.7088 Sundance 2017)
Using a visually driven, playful presentation, Dog Training 101 offers step-by-step instructions every dog owner needs and wants to know as you care for and raise your canine best friend.
 Train your dog positively : understand your dog and solve common behavior problems including separation anxiety, excessive barking, aggression, housetraining, leash pulling, and more! (636.7088 St54t 2013)
Victoria Stilwell, positive reinforcement dog trainer and star of the hit Animal Planet TV show, It's Me or the Dog, explains how to use her force-free, scientifically-backed training methods to solve common canine behavior problems.
 One hundred dogs & counting : one woman, ten thousand miles, and a journey into the heart of shelters and rescues (636.7083 Achterberg 2020)
From North Carolina where pit bulls fill the shelters and heartworm rages, to Tennessee where dogs are left forgotten in pounds, meet the people working on the front lines in this national crisis of unwanted animals.
Joanne Mengel works in the FDL Public Library Reference department.