FDLPL Main Library
9 am-8 pm
Allen J. Buechel Branch
2 pm to 6 pm
Idea Studio
3 pm-8 pm (see Calendar for any changes)
Fond du Lac Literacy Services
11:00 am - 7:00 pm
Chapter 52 Bookstore
2 pm to 6 pm
Item request has been placed!
×
Item request cannot be made.
×

Processing Request
by Emilyn Linden
I'm a hat wearer. I'm freckled and burn easily and I'm cold all the time, so I have different hats for every season. Apparently September is Fall Hat Month, which coincides with my personal internal calendar of when to break out the warmer headwear. We have many excellent books in the handicrafts area about making your own knit or crochet hat. And this is a reminder from your friendly neighborhood knitting librarian to start working on those holiday gifts now!
Cozy Knits, edited by Kari Cornell, includes a variety of patterns written using styles from around the world. There are hats with interesting color patterns, cabling and shaping based on traditional styles from places such as Iceland, Japan and Peru.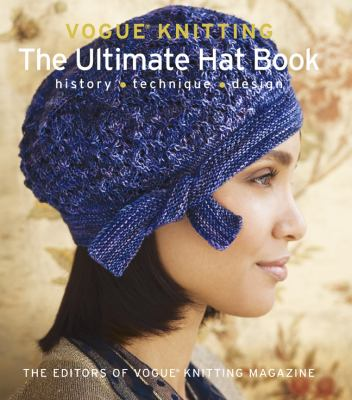 Vogue probably means fashion, makeup, etc. to the non-yarn crafters out there, but to knitters and crocheters, Vogue is a big name in the field. Vogue Knitting: The Ultimate Hat Book contains almost 50 patterns inspired by vintage hat styles. Definitely one to flip through if you want to know more about the variety of headwear a person can knit.


One of the things I love about making hats is that they generally don't take a lot of time or yarn. Weekend Hats leans into that with 25 hats in a variety of styles created by a bunch of different designers.

For the knitter with a young person in their life, a fun hat makes a great gift since a larger, more involved project might be too small by the time it's done. Monster Knits and More Monster Knits contain some cute and fun hats for young folks. And if you want an adult sized cute, fun and unexpected animal inspired hat, try Animal Hats to Knit. I particularly enjoy the snake headband.
.
For experienced knitters or knitters looking to learn some new skills, take a look at the ebook of Knit Hats with Woolly Wormhead over on Libby. I love Woolly Wormhead's designs. They're fun to knit, visually interesting, and different from hats you can buy at the store


I love snoods, hoods and cowls because they tend to be very warm and we live in Wisconsin, friends. So while I don't know how to crochet, I have a deep appreciation for the patterns in Crocheted Hoods & Cowls. All the patterns look super cozy and likely very quick to complete.
If you're interested in learning how to knit, we're offering Beginning Knitting again in October. Registration opens for the 4 class series on September 22. I also put together a blog post at the beginning of the pandemic about how to teach yourself to knit if you simply can't wait and must have your hat ready to celebrate #NationalFallHatMonth.
Emilyn Linden is a librarian in the FDL Public Library Information and Outreach Services department.