FDLPL Main Library
12 pm to 4 pm
Chapter 52 Bookstore
Closed
FDLPL Express
11 am to 3 pm
Large print books are easy on the eyes
Item request has been placed!
×
Item request cannot be made.
×

Processing Request
by Joanne Mengel
Were you aware that many of the newest and most popular books are also published in large print? Forget the stigma so often attached to this format and give one a try. Many of us spend the day staring at a computer screen, or driving great distances, and our eyes pay the price. Now you can read the latest book by your favorite author without straining your 'peepers'. What makes large print so great? The print size in a large print book is at least 16- to 18-point font versus regular print that is 10 or 12. Still not sure? Here is a list of some of the new large print titles available right now. Come on in and check one out!
For you romance readers:

Meant to Be by Jude Deveraux: It's 1972 and times are changing. In the small farming community of Mason, Kansas, Vera and Kelly Exton are known for their ambitions. Vera is an activist who wants to join her boyfriend in the Peace Corps. But she is doing her duty caring for her widowed mother and younger sister until Kelly is firmly established. Kelly is studying to become a veterinarian. She plans to marry her childhood sweetheart and eventually take over his father's veterinary practice. But it's a tumultuous time and neither sister is entirely happy with the path that's been laid out for her. This one keeps you guessing until the very end.

Party of Two by Jasmine Guillory: A chance meeting with a handsome stranger turns into a whirlwind affair that gets everyone talking. Dating is the last thing on Olivia Monroe's mind when she moves to LA to start her own law firm. But when she meets a gorgeous man at a hotel bar and they spend the entire night flirting, she discovers too late that he is none other than hotshot junior senator Max Powell. As their romance blossoms Olivia knows what she has with Max is something special, but is it strong enough to survive the heat of the spotlight?

The Vineyard at Painted Moon by Susan Mallery: One of my absolute favorite authors, Susan Mallery does it again. Mackenzie Dienes seems to have it all -- a beautiful home, close friends and a successful career as an elite winemaker with the family winery. There's just one problem -- it's not her family, it's her husband's. When she and her husband admit their marriage is over, her pain goes beyond heartbreak. She can continue to work at the winery, be friends with her mother-in-law, hug her nieces and nephews -- but as an employee only, nothing more. Or, she can build a legacy of her own. If she can dare to let go of the life she thought she wanted, she might discover something even more beautiful waiting for her. 
Is espionage your thing? We have these:
 

The Kaiser's Web by Steve Berry: In this Steve Berry's latest Cotton Malone adventure, a secret dossier from a World War II-era Soviet spy comes to light containing information that, if proven true, would not only rewrite history - it could impact Germany's upcoming national elections and forever alter the political landscape of Europe. From the mysterious Chilean lake district, to the dangerous mesas of South Africa, and finally into the secret vaults of Switzerland, revelations are made that could not only transform Europe, but finally expose a mystery known as the Kaiser's web.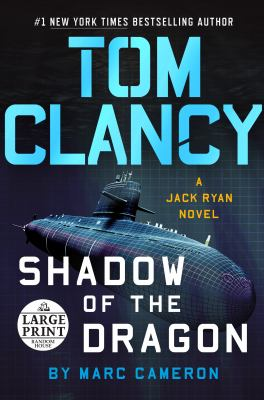 Tom Clancy: Shadow of the Dragon by Marc Cameron: This Jack Ryan novel features edge-of-your-seat espionage galore. When a high-level mole infiltrates American Intelligence, President Jack Ryan dispatches John Clark and the Campus team to track down a missing scientist who holds critical aerospace and naval technology. 

Vince Flynn: Total Power: a Mitch Rapp novel by Kyle Mills: When Mitch Rapp captures ISIS's top technology expert, he reveals that he was on his way to meet a man who claims to have the ability to bring down America's power grid. Rapp is determined to eliminate this shadowy figure, but the CIA's trap fails. Computers and communication networks are down, fuel can no longer be pumped from gas stations, water and sanitation systems are on the brink of collapse, and the supply of food is running out. Can Rapp get the lights back on before America descends irretrievably into chaos?

The Russian by James Patterson and James O. Born: James Patterson books come in large print too! Investigating a trio of horrifying murders in three major U.S. cities against a backdrop of his impending nuptials, Detective Michael Bennett risks getting caught in a deadly trap set by a particularly elusive killer. Another action filled novel co written by this number one espionage author.
And, if it's thrillers you enjoy - we have these popular authors as well.
 

A Piece of My Heart by Mary Higgins Clark & Alafair Burke: A high-suspense follow-up to the bestselling "You Don't Own Me". Laurie Moran is about to marry fiance Alex Buckley, former host of her reality TV show Under Suspicion when Alex's seven-year-old nephew goes missing. The hunt is on--even underwater, as Johnny was last seen collecting shells along the shore. Their nuptials are nightmarishly upended in this page turner.



Blink of an Eye by Iris Johansen & Roy Johansen: The latest thriller by a favorite author again features Dr. Kendra Michaels, blind for the first twenty years of her life, who works with local and federal authorities on only the most impossible cases. A revolutionary surgical procedure allowed her to regain her sight, and Kendra uses her powers of observation, honed during her years in the dark, to detect what other investigators don't. When a world famous pop star is kidnapped, Kendra is on the case, with assistance from recurring character Jessie Mercado, a private investigator and army veteran who was the pop singer's former bodyguard. But as the abductor's true purpose becomes clear, Kendra and Jessie uncover a plot more terrifying than anyone could have imagined.

Hush-hush by Stuart Woods: Investigator Stone Barrington returns in the latest thriller by this popular author. Stone is settling in for some downtime in New York City when an anonymous enemy makes himself known. This nameless foe's threats hit close to home, and before Stone can retaliate, the fearsome messages turn into very real consequences. He realizes that no place is safe, and he'll have to flush out the mastermind before he and those closest to him are silenced for good. A definite nail biter!
No matter what you like to read, chances are we own it in large print. Save your 'peepers'  - check out our huge collection of these eye saving treasures today!
Joanne Mengel works in the FDL Public Library Reference department.