FDLPL Main Library
9 am-8 pm
FDLPL Express
2 pm to 6 pm
Idea Studio
3 pm-8 pm (see Calendar for any changes)
Fond du Lac Literacy Services
11:00 am - 4:00 pm
Chapter 52 Bookstore
2 pm to 6 pm
Item request has been placed!
×
Item request cannot be made.
×

Processing Request
by Joanne Mengel
July is here and it is getting hot, hot, hot! Need to cool off? Let's go to the beach, or do the next best thing and read about the sun and sand. I won't be doing much traveling this summer, but, if I could, one of my lifelong dreams is to visit the East Coast, especially the island of Nantucket. Another region on my bucket list is what is referred to as the South Carolina Lowcountry, which includes the Sea Islands. Chances of me traveling to either area are pretty slim right now, but I find it almost as enjoyable to read about them. If you are an armchair traveler like me, try reading these authors and let them take you away to the beach!
Let's start with Nantucket. My all time favorite author for books with a Nantucket setting is Elin Hilderbrand. If you like stories that explore family dynamics - both good and bad - any of these are worth a look. She has at least a dozen titles to choose from, each one as good as the next.
  28 Summers by Elin Hilderbrand 
Based on the classic film, Same Time Next Year, 28 Summers explores the agony and romance of a one-weekend-per-year affair and the dramatic ways their family relationships can either complicate or enrich Mallory and Jake's lives, and the lives of the people they love.
 
  Golden Girl by Elin Hilderbrand
On a perfect June day, Vivian Howe, author of thirteen beach novels and mother of three nearly grown children, is killed in a hit-and-run car accident while jogging near her home on Nantucket. She ascends to the "Beyond" where she's assigned to a "Person" named Martha, who allows Vivi to watch what happens below for one last summer. With all of Elin's trademark beach scenes, mouth-watering meals, and picture-perfect homes, plus a heartfelt message - the people we lose never really leave us.
Nancy Thayer is another of my all time favorites. Her descriptions of the Nantucket area are amazing, so descriptive that you feel as though you are actually there. She has oodles of titles, but here are two good ones.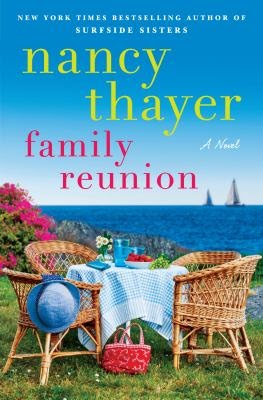 Family Reunion by Nancy Thayer 
Eleanor Sunderland loves living on the Nantucket cliffside, in a charming home that has been in her family for decades. Now widowed, she looks forward to the arrival of her children and grandchildren for an annual family reunion, eager for the life and laughter that will soon fill the air. But Eleanor's island idyll is shattered when her money-driven children suggest she sell the house and move to a retirement community. This one is a magical, multigenerational novel.
Girls of summer by Nancy Thayer
Lisa Hudson feels more alive than she has in a long time after hiring hunky carpenter Mack Whitney to renovate her old Nantucket home. There's no denying the spark growing between them--despite the fact that Mack is ten years her junior. But her twentysomething children, Juliet and Theo, on the island for the summer, worry that the new relationship will only lead to Lisa's heartbreak. Nancy Thayer dazzles again with this new tale of a magical summer.

Lowcountry novels that are so, so good
A Lowcountry Wedding by Mary Alice Monroe
Part of her Lowcountry Summer series, this one is set against the romantic, charming Charleston Lowcountry. Wedding season has arrived, and nothing could be more enchanting than a summer wedding - or two - in Charleston's fabled lowcountry. A centuries-old plantation, an avenue of ancient oaks dripping moss, a storied ballroom, a sand dune at sunset... Sounds perfect to me!
Beach House Reunion by Mary Alice Monroe
First in her Beach House series, Mary Alice Monroe weaves together a tale of the struggles and triumphs of the historic Rutledge family of Charleston, South Carolina. In this heartwarming novel, three generations of the Rutledge family gather together to find the strength, love, and commitment to break destructive family patterns and to forge new bonds that will endure long beyond one summer reunion. My favorite part is learning all about the sea turtles and the group known as the "turtle team". Loved every page of this one.
Sullivan's Island : a Lowcountry tale by Dorothea Benton Frank
This is the book that got me hooked on this region of the South. An old title but first in this wonderful series. Set on the stormy, sultry coastal region of South Carolina, a woman with an unfaithful husband, resentful teenage daughter, and dark memories of the past embarks on a courageous search for the truth about her life. The author's descriptive writing is so enjoyable and she describes the area to perfection. No wonder I have it on my bucket list!
Reunion Beach : stories inspired by Dorothea Benton Frank
Like a little variety to choose from? A group of bestselling authors pays tribute to legendary New York Times bestselling author Dorothea Benton Frank and her literary legacy, capturing her unforgettable spirit, joy, and humor in stories of reunions and love. Inspired by the title Dorothea Benton Frank had planned for her next book -- Reunion Beach -- close friends and colleagues pay tribute in stories and poems that celebrate Frank, a prolific author who had a love for the Lowcountry of her native South Carolina. A really great collection.
Another of my favorite "beachy" authors is Mary Kay Andrews. I couldn't pick just one so I am highlighting some of her best. Just click on the book cover and it will take you to our catalog. Grab a lawn chair and a cold beverage and pretend you are at the beach!
Joanne Mengel works in the FDL Public Library Reference department