FDLPL Main Library
9 am-8 pm
Idea Studio
By Appointment
Chapter 52 Bookstore
2 pm to 6 pm
FDLPL Express
2 pm to 6 pm
National Nutrition Week is September 1-7
Item request has been placed!
×
Item request cannot be made.
×

Processing Request
by Joanne Mengel
September 1-7 is National Nutrition Week and it is the perfect time of year to get into the habit of healthy eating. I don't know about you but the better I eat, the better I feel. Healthy eating is easier than you think. Most of us have vegetables galore in our home gardens, and there is always plenty to choose from at the local farmer's markets for those who do not. Here are just a few of the great books the library has in stock to help guide you on your path to good nutrition and healthy eating.
How to eat : all your food and diet questions answered by Mark Bittman and David Katz: Bittman and Katz share their clear, no-nonsense perspective on food and diet, answering real questions covering everything from basic nutrients to superfoods to fad diets.
(613.2 Bittman 2020)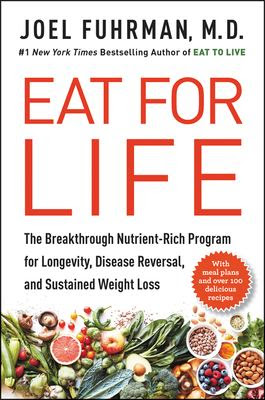 Eat for life : the breakthrough nutrient-rich program for longevity, disease reversal, and sustained weight loss by Joel Fuhrman: New York Times bestselling author finally reveals the specific guidelines behind his famously no-nonsense, results-driven nutrition plan-Food to Live promises to add years to your life and life to your years. (613.2 Fuhrman 2020)
 The nutritionist's kitchen : transform your diet and discover the healing power of whole foods by Carly Kellogg Knowles: Informed by a nutritionist's perspective on wellness, The Nutritionist's Kitchen offers recipes that are both delicious and healthy. (641.5637 Knowles 2020)
 Cooking Light the food lover's healthy habits cookbook Healthy habits cookbook: Collects the twelve healthy habits program from Cooking Light magazine that replaces old habits with new behaviors, from eating breakfast and exercising to eating mindfully and being aware of portion-size. (641.563 Food 2012)
 Seriously good salads : creative flavor combinations for nutritious, satisfying meals by Nicky Corbishley: Gone are the days when salads were disappointing meals made with wilted lettuce and a few standard veggies. In this book award-winning food blogger Nicky Corbishley shares 75 of her favorite salads, all packed with fresh flavor, loaded with exciting toppings and covered with delectable dressings. (641.83 Corbishley 2019)
 Find your path : honor your body, fuel your soul, and get strong with the Fit52 life by Carrie Underwood: We all know she can sing but she sure looks great doing it. Carrie Underwood shares her personal journey towards optimal health, from her passion for sports as a kid, to the pressure to look perfect and fit the mold as she launched her career after winning American Idol, to eventually discovering the importance of balance and the meaning of true health. (613.712 Underwood 2020)
 The how not to diet cookbook : 100+ recipes for healthy, permanent weight loss: Michael Greger, M.D. FACLM, the author of the New York Times bestseller How Not to Die, brings us a new book about mindful dieting-how to eat well, lose, and keep unwanted weight off in a healthy, accessible way that's not so much a diet as it is a lifestyle. Greger offers readers delicious yet healthy options that allow them to ditch the idea of "dieting" altogether. (641.5635 Greger 2020)
 The game of eating smart : nourishing recipes for peak performance inspired by MLB® superstars: In Major League Baseball, the transition to eating healthy food has become more than a movement; it's a revolution. Jose Altuve, Chris Archer, Clayton Kershaw, Noah Syndergaard, Mike Trout, and the 16 other star ball players are proof of the positive effect of proper nutrition on athletic performance and overall health. (641.563 Loria 2019)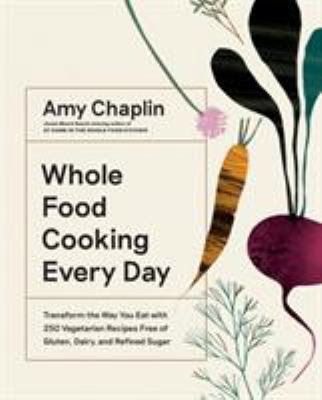 Whole food cooking every day : transform the way you eat with 250 vegetarian recipes free of gluten, diary, and refined sugar by Amy Chaplin: Eating whole foods can transform a diet, and mastering the art of cooking these foods can be easy with the proper techniques and strategies. The author shares ingenious recipes incorporating the foods that are key to a healthy diet: seeds and nuts, fruits and vegetables, whole grains, and other plant-based foods. She offers her secrets for eating healthy every day: mastering some key recipes and reliable techniques and then varying the ingredients based on the occasion, the season, and what you're craving. (641.5637 Chaplin 2019)
 Taste of Home healthy family favorites: Looking to take charge of your family's diet by lightening up weeknight menus? With Taste of Home Healthy Family Favorites Cookbook it's never been easier! Inside you'll find all the satisfying dishes you've come to expect from Taste of Home...with fewer calories, salt, fat and carbs. Every recipe offers a complete set of Nutrition Facts, and each dish was reviewed by a registered dietician and tested in the Taste of Home Test Kitchen. (641.563 Taste 2018)
 7 Ways by Jamie Oliver: British chef and restaurateur Jamie Oliver presents a collection of recipes that offer multiple options for common ingredients, from chicken breast and ground beef to potatoes and broccoli, and show readers how to incorporate satisfying twists and high nutrition into everyday meals. (641.555 Oliver 2020)
 How to be a conscious eater: making food choices that are good for you, others, and the planet  by Sophie Egan: To eat consciously is not about diets, fads, or hard-and-fast rules. It's about having straightforward, accurate information to make smart, thoughtful choices amid the chaos of conflicting news and marketing hype. An expert on food's impact on human and environmental health, Egan organizes the book into four categories--stuff that comes from the ground, stuff that comes from animals, stuff that comes from factories, and stuff that's made in restaurant kitchens. This practical guide offers bottom-line answers to your most top-of-mind questions about what to eat. (641 Egan 2020)