FDLPL Main Library
9 am-8 pm
Allen J. Buechel Branch
2 pm to 6 pm
Idea Studio
3 pm-8 pm (see Calendar for any changes)
Fond du Lac Literacy Services
11:00 am - 7:00 pm
Chapter 52 Bookstore
2 pm to 6 pm
Witch book's next? (blog)
Item request has been placed!
×
Item request cannot be made.
×

Processing Request
by Katie Killian
Fall is finally here, which means it's the season of the witch! And what's more fitting than cosying up with some friends and reading for a spell? 
If you've been toiling through any books lately, trouble no longer! Might I recommend Forged by Blood - a brand new Nigerian-inspired witchy fantasy novel I've been sinking my teeth in of late, with the most stunning cover? Or if you're looking for something sweeter and more quaint, a favorite author of mine - Jenna Evans Welch - wrote a witchy YA romance last year that I've read several times and can definitely recommend: Spells for Lost Things.
There's plenty more on the list worth a look or two if you're in the spirit!
Fiction
  Her Majesty's Royal Coven   |   DAWSON Juno Her 2022
  Forged by Blood   |   OKOSUN Ehigbor Forged 2023  (New Fiction)
  The Witches of Moonshyne Manor   |   MARAIS Bianca Witches 2022
  Acts of Violet   |   MONTIMORE Margarita Acts 2022
 Book of Night   |   BLACK Holly Book 2022
  Practical Magic   |   HOFFMAN Alice Practical 1995
  Chocolat   |   HARRIS Joanne Chocolat 1999
  Mists of Avalon   |   BRADLEY Marion Mists 1982
  The Lost Queen   |   PIKE Signe Lost 2018
  Wicked : The Life and Times of the Wicked Witch of the West : a novel   |   MAGUIRE Gregory Wicked 1995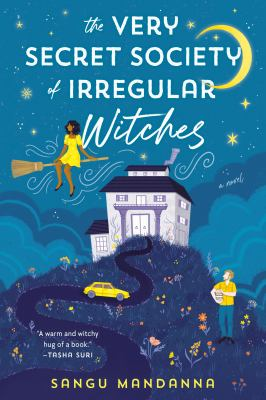 The Very Secret Society of Irregular Witches   |   MANDANNA Sangu Very 2022
  The Ex Hex   |   STERLING Erin Ex 2021
  The Witch's Daughter   |   BRACKSTON Paula Witch's 2010
  Weyward   |   HART Emilia Weyward 2023
Nonfiction
  Wild Witchcraft   |   615.321 Beyer 2022
  Witchery   |   133.43 Diaz 2019
  HausMagick : Transform Your Home with Witchcraft   |   133.43 Feldmann 2019
  Brujas : The Magic and Power of Witches of Color   |   133.43 Monteagut 2022
  Green Witchcraft   |   133.43 Vanderbeck 2020
Teen
  Spells for Lost Things   |   WELCH Jenna Spells 2022 
  Akata Witch   |   OKORAFOR Nnedi Akata 2011
   Nature of Witches   |   GRIFFIN Rachel Nature 2021
  Plain Bad Heroines   |   DANFORTH Emily Plain 2020
  Children of Blood and Bone   |   ADEYEMI Tomi Children 2018
  Cemetery Boys   |   THOMAS Aiden Cemetery 2020
Katie Killian is a librarian in the Fond du Lac Public Library's information and outreach services department.